We value our patients' experience at Toensing Chiropractic & Nutrition. If you are currently a patient, please feel free to complete the following Client Experience Questionnaire. The Questionnaire is in Adobe Acrobat format, and requires the free Acrobat Reader to view.
Download & Print Questionnaire
Dr. Korey Toensing
TESTIMONIALS
---
Donna- "Purification Program"
"For all those out there that are doing this program or couldn't decide whether to or not! You have no idea what you are missing! I was feeling pretty down, tired and just out of it. Food did not taste good anymore and i had all round feeling of yuck! I started a week early and after just 8 days - I am LIKING the taste of food again. My avocado was amazing today. If you want to feel good - you have really got to try this and stick to it! It is so worth it!!"
---
Jay
Back pain and "crooked" all his life (13 years old). This is the result of one adjustment, pictures taken 5 minutes apart!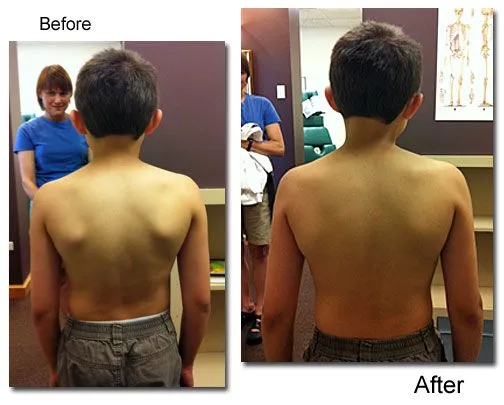 ---
Beth C.

The testimonial of very blessed woman! Thanks again for your daily encouragement.

Hello Gorgeous! : What can I say, the name of this program just spoke to me! Ha. :) Actually, I have received so much life changing advise from Dr. Korey this last year, there is no way I could pass up this opportunity. She truly was an answer to many prayers in my life. Her talent and knowledge have helped many in my family. I used the gym during my physical therapy and always looked longingly at the next class that came in to workout. I thought it looked like so much fun. This 21 day challenge came out just as I was ready to venture from PT to a real workout. The timing couldn't have been better. The added bonus was bringing on Bill to The Fit Club. I have whined for years to my husband that I needed a personal trainer... feeling insecure and that there was no way I could go to a class and jump around with all the "teeny tiny" Naperville moms. After all, I was in my 40's,had had 2 kids, was overweight and lived a very sedentary lifestyle. I would never fit in! Well, I can tell you that at The Fit Club EVERYONE fits in! The best part is you really do have a personal trainer! The class sizes are perfect for me to feel like I am getting all the one-on-one benefit but still having a great time in a small group. The camaraderie that I have found has been amazing. Bill is such a gentle giant! He knows just how to push each person and really watches out for us all so that we do not hurt ourselves in the process. (which would be easy for me to do!) At the end of the 21 days, I had lost 8 pounds and 8 inches overall. I was thrilled...all that PLUS building muscle that I truly didn't know existed on my body!
If you have the chance, take it. You will never regret it. It's a winning combination! Hope to see you there!
-- A proud member of the 6am Rowdy Roosters! Cock-a-doodle-doo!!"
---
Tina F.
I can't say enough good things about Dr. Korey. I've been a patient for just 3 short weeks and I feel better than I've felt in years! Thank you Dr. Korey for taking the time to listen to me and to help me feel better! I've never had a doctor spend as much time with me as you did at my first appt. I felt so much better after just that one appt. Now I feel better than I thought I ever could! I've been going to other chiropractors for 5 years and they just kept "treating" the same issues. You FIXED them! I know we still have some work today, but as I type this, my shoulders are down and NOT tense! You are a chiropractor for all the right reasons and you really care! Thank you!!!!! --Tina Falkner
---
Penny S.
Dr. Korey and Nathan are amazing! I was in severe pain today and Dr. Korey and Nathan spent the morning working on me to get the pain under control. After adjustments and finding the right supplement, I was able to walk out of there! I have NEVER seen a doctor who cared that much about my pain and was willing to invest so much of their time to help me. And, no pain meds!! YOU GUYS ROCK!!
---
John H.
I had been seeing another chiropractor for years. I had a chronic pain in my shoulder that prevented me from touching the small of my back with my left hand. Every effort that the chiropractor made to help my shoulder only made the pain worse. I finally stopped allowing him adjust it.
One day I needed to get my back adjusted and my regular chiropractor's office was closed. I stopped in to see Dr. Toensing and she took her time to explore what was going on in my back, neck and shoulder. She made some gentle adjustments and sent me home. The next day I had considerably less pain in my shoulder and I was able to move it again. Today, my shoulder is pain free. I was so pleased with Dr. Toensing's skill that I haven't gone anywhere else since. She is, quite simply, the best practitioner of chiropractic I have ever had the pleasure to see.
Thanks Dr. Korey!
---
Anita W.
Dr. Korey,
Since I began the treatments with you, my knees have improved remarkably. I can get up from sitting without using my arms to push me up. This used to be very painful and now I feel 20 years younger. I am amazed what the adjustments do. I run up stairs and the slow moving, painful mornings are history.
Thank you!
---
Dan R.
My experience with Dr. Korey has been great. She has worked with me on my total package. Sixteen months ago I came to Fitness Together (sister company to TFC) looking for a change in my health and my life. Dr. Korey and Nathan (owner of Fitness Together) worked with me to get on the right exercise routine thru the training, getting a handle on nutrition and having me look at what supplements I was missing. The exercise, while rough at times, was the easy part. My problem was nutrition. With Dr. Korey's help, I was able to look at what I was eating by logging my meals. No "you can't have this or that", just what is it that I was eating at the time. Once I saw the amount of calories and the types of choices I was making, it was clear to see a change was needed.
Dr. Korey worked with me to make better choices. She recommended that I do a body cleanse to get rid of all the "stuff" in my body that did not belong. I lost twenty pounds after that cleanse! Then it was up to me to continue to make the right choices to continue the journey. I did not always find it easy to get to the next weight loss goal. I found myself doing what I thought was right, but then saw no results. It was me not following what Dr. Korey had shown me to do. After a few months of hitting a plateau, I got back on track and lost even more. I currently have lost over eighty pounds. My body has never looked this good or functioned this well. I am a diabetic that was just taken off of some of my med's! My triglycerides were off the charts and I was told that they would always be in triple digits. They are now in the fifties and my doctor is amazed! With Dr. Korey's help on nutrition and supplements and the trainers keeping me focused in the gym, I will be at my goal of having lost a hundred pounds within the near future.
Thanks Dr. Korey!
---
Alison S.
Korey is without doubt a miracle worker.
I have suffered from low back pain for over 20 years caused by a car accident and had just accepted the pain as part of my life. On the very first visit with Korey, I was pain free. It was wonderful.
With Korey's expertise and the exercise program I am on with Fitness Together, my back is getting stronger and I am beginning to feel like a new person and looking forward to the rest of my life.
Thank you so much, Dr. Korey.
---
Penny S.
I am feeling great after my adjustment! After just one adjustment, my hips feel so much better--I can't believe it!
---